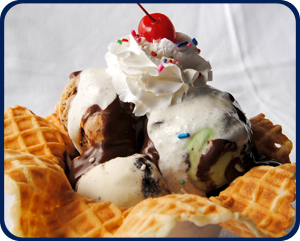 We serve Fun and Memorable Ice Cream Socials all over Northern California. Our attractively uniformed, professional staff can handle the largest of events (10,000 servings in as little as little as an hour).
You will love the smell of fresh made-on-site Waffle Cones wafting through the air, and our Home-Made ice cream (Gunther's Ice Cream of Sacramento) is top notch, made the same way since 1949, and voted Best of the Best Sacramento nearly every year.
Here is what you will love about our Ice Cream Socials:
Uniformed, Professional Staff is Guaranteed to Please

We are On-Time and ready to serve early… No catering setup hassles or worrying if the caterer is going to show up.

We make Waffle Cones… right on site at your location!

Incredible Ice Cream… and a variety of flavors too!

Experience – We serve over 300 events a year – We know what works and what doesn't for your specific event

120% GUARANTEE. All of our catering is 120% Guaranteed… If you don't like the ice cream we serve, or the service we provide, then you don't pay… Plus we will give you a 20% credit toward your next event just so we can get it right
Rich's Ice Cream Catering opened in 1994 by the Johnson Family in Folsom, Ca. and the business grew to include retail stores and an ice cream catering and event division. The business has won numerous 'Best of the Best' awards, voted Small Business of the Year by the Folsom Chamber of Commerce, and has grown into a catering and event operation that servers over 300 events each year.
The number of events we serve each year allows us to be confident with the caterings we serve. We don't 'wing it' when it comes to catering, and you can be certain we will make you look good when we serve at your next ice cream social!
Give us a call or email, and we'll forward a custom proposal…just for your event.

---
Need Great Tasting Deli Catering…Check out our deli business. www.lunchboxexpressonline.com